I became a vegetarian six years ago. At the time, I had been eating vegetarian for months but I was reluctant to take the plunge and officially become a "vegetarian".
"What if I changed my mind?" I wondered. Well, starting January 2011, I decided to give it a try. "I can always revert back to being a meat eater," I told myself. However, I never looked back. A temporary try became a lifetime decision.
One of the reasons I love being vegetarian is because vegetarian food is delicious! Who knew? Prior to being a vegetarian, I had focused on following traditional eating norms by dividing my plate into three sections for the protein, carbohydrate and vegetable (often frozen and tasteless). This preoccupation kept me from discovering the savory vegetarian dishes that throw caution to the wind and put all the food categories in one dish or highlighting the vegetable over the protein.
Once I began experimenting with this wild vegetable-focused way of cooking, I discovered that fruits and vegetables taste amazing! Around this time, I bought a local CSA farm share that featured organic, heirloom vegetables and, let me tell you, you have never tasted a tomato until you have a tasted a fresh, picked-that-day, heirloom tomato from a local farm. It's sweetness and subtly of flavor astounded me.
Around that same time, I began to explore and test out different cookbook authors. I spent so much time with some of the cookbooks that I began to refer to some of the authors by their first names, like we were old friends. "Oh tonight I am cooking with Debbie," I would say to my partner, referring to vegetarian cookbook author Deborah Madison.
Today, I want to share with you some of my favorite vegetarian cookbook authors, who have brought beauty and flavor to my life. I am always looking for new authors to try, so please share your favorites too!
Deborah Madison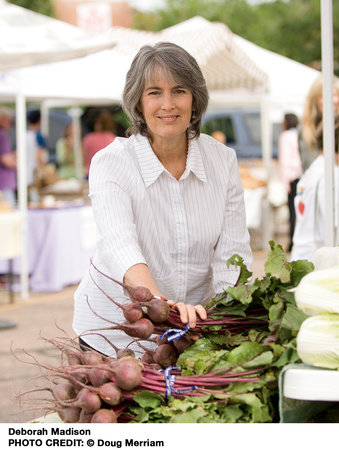 Deborah Madison is my oldest and dearest "friend" when it comes to vegetarian cooking. Her book Vegetarian Cooking for Everyone covers all food courses and includes basics on every kind of vegetable you can imagine. Deborah got me through my early days of being a vegetarian. Deborah lives in New Mexico and describes herself as a "localtarian", meaning she prefers to eat what is local and in season. Her book Vegetarian Suppers from Deborah Madison's Kitchen helped solve the question for me of: What's for dinner? Be prepared for her to use a myriad of vegetables and for her recipes to use a lot of dishes.
Angela Lidden, author of recipe blog "Oh She Glows"
Angela Lidden introduced to me the world of vegan cooking (which means cooking without dairy or eggs). I love her Overnight Oats, Butternut Squash Mac 'n' Cheez and her Double Chocolate Torte with Coconut Whip Cream (one of my favorite desserts). She's also my go-to when I need to figure out what to do for Thanksgiving. Her lentil loaf and garlic mashed potatoes are hearty staples. You can find her recipes at her blog, ohsheglows.com, and in her cookbook The Oh She Glows Cookbook: Over 100 Vegan Recipes to Glow from the Inside Out.
Isa Chandra Moskowitz
I have only recently become acquainted with Isa Chandra Moskowitz, author of Isa Does It: Amazingly Easy, Wildly Delicious Vegan Recipes for Every Day of the Week. I love Isa for her heartiness and her ability to turn traditional American meals into vegan feasts. My favorites from Isa include New England Glam Chowder, Butternut Bisque with Coconut Swirl, Tofu-Mushroom Stroganoff and White Wine Risotto with Peas and Shiitake Bacon. I use my Isa cookbook more than any other. Her recipes are simple and require few dishes.
Seasonal Cooking
Inspired by Deborah Madison, I strive to be a "localtarian", using local and seasonal produce as much as possible. This often means I find myself with an abundance of one particular fruit or vegetable because it is in season. I capitalize on this abundance by theming my cooking and baking that week around that item. For instance, I'll have a beet week where I make beet brownies, beet juice, beet soup, beet tarts and beet risotto. I'll have other weeks themed around apples, pears, pumpkins or parsnips. I haven't posted the recipes for my themed weeks here but, if you would find them helpful, I am happy to share them. I have found it takes time, effort and creativity to find enough recipes to fill a week for a specific fruit or vegetable.
I hope this blog post inspires you to savor your fresh, local vegetables and to explore new vegan and vegetarian recipes. Vegetarian cooking is fun, flavorful and full of beauty!